Rigol MSO7014 100MHZ Digital Oscilloscope with 4 Channels, 10GSa/Sec Sampling
MSO7000/DS7000 series is a multifunctional and high-performance digital oscilloscope designed on the basis of the UltraVision II technology developed by RIGOL. Integrating 7 independent instruments into one, the MSO7000/DS7000 series is equipped with super high sample bandwidth ratio, extremely high memory depth, clear display, excellent waveform capture rate, and powerful data analysis functions. Many of its specifications have reached the top level in the industry. With sound solutions for mainframes, optional&accessories, and application software, it has aroused great attention from customers in the areas such as industrial control, power supply, and automotive electronics.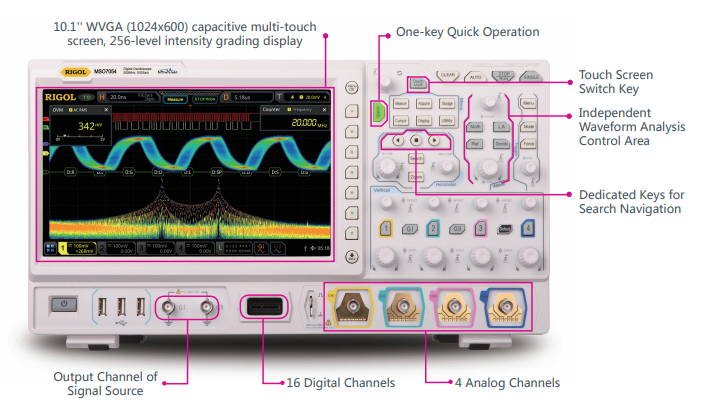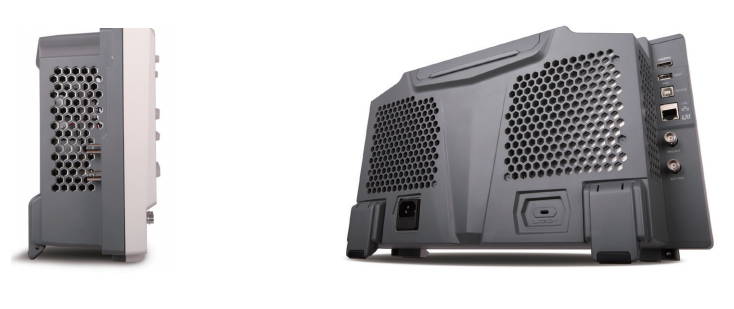 Analog bandwidth: 500 MHz, 350 MHz, 200 MHz, and 100 MHz; bandwidth upgrade option supported
4 analog channels, 1 EXT channel, and 16 digital channels (Option)
Up to 10 GSa/s real-time sample rate
Up to 500 Mpts memory depth (Option)
High waveform capture rate (over 600,000 waveforms per second)
Up to 450,000 frames of hardware real-time and ceaseless waveforms recording and playback functions
Integrates 7 independent instruments into 1, including digital oscilloscope, 16-channel logic analyzer, spectrum analyzer, arbitrary waveform generator, digital voltmeter, 6-digit frequency counter and totalizer, and protocol analyzer
A variety of serial protocol triggers and decodes
Auto measurement of 41 waveform parameters; full-memory hardware measurement function
A variety of math operations, built-in enhanced FFT analysis, and peak search function
Waveform histogram analysis (standard)
Independent search, navigation keys, and event table
Built-in advanced power analysis software (option)
User-defined one-key quick operation
10.1-inch capacitive multi-touch screen, 256-level intensity grading display, with color persistence
Multiple interfaces available: USB HOST&DEVICE, LAN(LXI), HDMI, TRIG OUT, and USB-GPIB
Web Control remote command
Unique online version upgrade
Novel and delicate industrial design, easy to operate
Performance and Analysis for Today's Mainstream Mixed Domain Applications<br>
The 7000 Series Oscilloscopes combines best in class sampling and memory depth with our modern, flexible User Interface enabled by our new UltraVision II architecture and innovative Phoenix Chipset. With 100 to 500 MHz models each with 4 analog channels, the 7000 Series brings innovative analysis and visualization capabilities to embedded design, power analysis, serial decode, and RF applications. Analyze your critical signals with zone triggering, 7 instruments in 1, Enhanced FFTs, color grading, and histograms all supported by the high sample rate, deep memory, and full memory measurements.
7000 Series Oscilloscopes provide unprecedented value and innovation in our mainstream embedded platform.
Here's the Technical Bit…
ENGINEERS
Help you select the ideal power supply
CUSTOM BUILD
Overload capacity? Phase angle?
QUICK DELIVERY
On special orders & custom builds
TECH SUPPORT
Hard start motor at 85% under voltage?