Rigol RSA3045N 4.5 GHz Real-Time Spectrum Analyzer - w/10MHz RTBW - VNA Capable
For a limited time RIGOL is extending the capabilities of your new Vector Network Analyzer. Register at the link below to receive your upgrades. Purchase a new RSA3000N Spectrum Analyzer and receive a free EMI Analysis upgrade and a free Pre-Amplifier option
Offer valid on purchases through 3/31/2021
Real-Time Spectrum Analyzers
For Mainstream RF Applications including EMI, ASK/FSK, and Vector Network Analysis to 1.5, 3, or 4.5 GHz. Engineers integrating WiFi, Bluetooth and other modern RF technologies are confronted with complex challenges like frequency hopping signals, channel conflict, and spectrum interference. Debug and Analyze RF Signals and Systems including Antennas and Transmitters.
Real-Time Spectrum Analyzers bring the dimension of time to RF Analysis making it easier to monitor and characterize these complex RF systems
The RSA3000 and RSA3000E Series combine High Performance swept analysis and Real-Time performance (9.3µs 100% POI) with specialized optional measurement modes for demanding analysis including EMI mode for EMI Pre-Compliance testing, ASK/FSK mode for demodulation analysis (RSA3000E), and AMK for Advanced Measurements including channel parameters. The RSA3000N models also come standard with Vector Network Analysis. VNA Mode includes S11, S21, and Distance To Fault measurements. The RSA3000 provides complete characterization of RF components, modules, and systems with uncompromised performance and unprecedented value.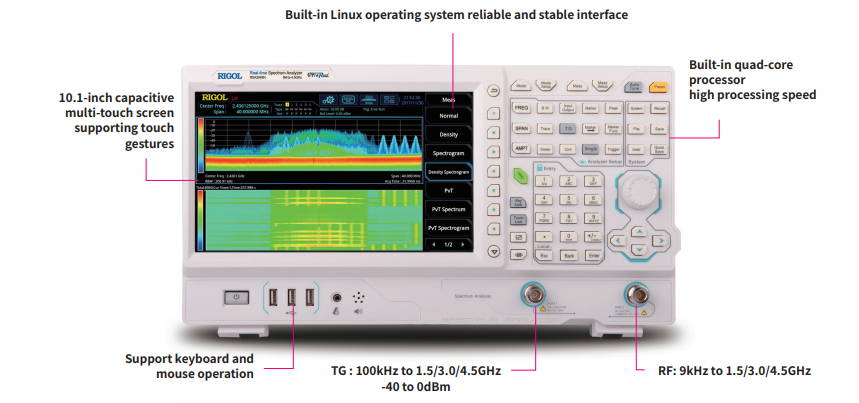 Ultra-Real technology
Frequency: up to 4.5 GHz
Displayed average noise level (DANL): <-161 dBm (typical)
Phase noise: <-102 dBc/Hz (typical)
Level measurement uncertainty: <1.0 dB
4.5 GHz tracking generator
Min. RBW 1 Hz
Up to 40 MHz real-time analysis bandwidth
Multiple measurement modes
Various advanced measurement functions
EMI measurement application (option)
Vector network analyzer application
Multiple trigger modes and trigger masks
Density, spectrogram, and other display modes
PC software options
10.1'' capacitive multi-touch screen; supporting touch gestures
USB, LAN, HDMI and other communication and display interfaces
Here's the Technical Bit…
ENGINEERS
Help you select the ideal power supply
CUSTOM BUILD
Overload capacity? Phase angle?
QUICK DELIVERY
On special orders & custom builds
TECH SUPPORT
Hard start motor at 85% under voltage?