ITECH IT8700 Series Multi-Channel Programmable DC Electronic Load
Maximize the Return of Your Test Equipment
With ITECH's exclusive building-block approach: easily configure up to 8 load modules and 16 channels.
Traditional DC Electronic Loads Aren't Built for Flexibility
Stop letting big brand names tell you that "there's a system for that" and paying for outdated technology you don't need.
Our modular design breaks through the traditional testing system limitations, allowing you to configure & build test platform according to your own test requirements.
IT8700 series programmable DC electronic load adopts removable modules design, with single frame control 8 channels, and 16 channels with extended mainframe extension transient mode up to 25 kHz , which improves your test efficiency, with high resolution and accuracy. Users can freely choose in the 8 load modules according to the number of channels and power requirements, controlled by mainframe control panel, or controlled by IT9000-PV8700 software via built-in LAN / RS232 / USB / GPIB interface. IT8700, with adjustable slope, list function, automatic test and other functions, automatic test function can be set to work under CC / CV / CR / CP can be used in the application of R&D and production line. IT8700 has self-diagnosis and comprehensive OVP, OCP, OPP, OTP, etc., ensure the operator safety.
Removable modules for easy system configuration
Dual-channel module can display each channel information simultaneously
Single frame up to max􀀏8 channels, extended frame up to maximum 16 channels
Dynamic power distribution function for dual channels
Measurement resolution: 0.1mV/0.01mA
Measure short-circuit peak current value and peak voltage value
Measurement speed for voltage, current up to 50kHz
Adjustable current rising / falling slope
Simulate various waveforms with load under List mode
Up to 25kHz dynamic mode
Automatic test function can automatically determine whether the test results exceed the set specifications
Simultaneously perform multiple sets of electronic load modules
OVP / OCP / OPP / OTP / anti-reverse protection
Built-in Ethernet / GPIB / USB / RS232 communication interface
Support anti-reverse alarm
| | | |
| --- | --- | --- |
| Model | Specification | Size (D*H*W) |
| | | |
| | | |
| | | |
| | | |
| | | |
| | | |
| | | |
| | | |
| | |
| --- | --- |
| | |
| | Two-load module main control unit (including four interfaces) |
| | Four-load module main control unit (including four interfaces) |
| | Four-load module expansion unit |
*1: The total power of dual channel for IT8722/IT8722B is 300W, if the two channel of IT8722/IT8722B work at the same time, need to meet: 50W≤PCH1/PCH2≤250W; PCH1+PCH2≤300W
*2: IT8700 modules should be equipped with IT8701/IT8702 mainframe
*3: Interface of mainframe: RS232, USB, GPIB, Ethernet
Easily Configurable Modular System
IT8700 adopts modular design, which has a high-performance microprocessor in every module and mainframe. It has high measurement speed because of parallel architecture. The mainframe controls each models synchronously and show the testing values in real time.
Dynamic Power Distribution Function
Usually, one module require high power while another require low power in battery testing. IT8722/IT8722B has dynamic power distribution function,that means within 300W,any channel which power over 50W and less than 250W,the power can be distributed freely, one module can be used as multiple standard modules.
Dynamic Power Distribution Function
ITS5300 battery test system can be formed by IT8700, ITECH power supply, battery resistance tester and temperature data logger, which makes hundreds of channels run at the same time, record voltage and current waveforms in real-time. Test data can be exported to EXCEL.
IT8700 can also equip with ITECH AC and DC power supply, relay card, I/O Card, DSO card to set up ITS9500 power supply test system, which achieves multi-supply modules simultaneously test or multiplex output AC / DC or DC / DC power supply module test.
IT8700 with IT9380 software can achieve multi-channel solar cell test, the test interface can be switched freely, support the sampling time settings, export test data, and with up to 50KHz I-V sampling rate, achieving high efficient and fully automated testing for solar panel.
Peak Voltage, Peak Current Measurement
Dynamic current testing of switching power supply often requires oscilloscope to capture instantaneous voltage and current waveforms to obtain the valve of the peak voltage Vpk and the peak current Ipk. IT8700 is with digital data acquisition function, users can easily get the values of Vpk and Ipk without oscilloscope.
High Resolution and Accuracy
IT8700 has the best product features with 0.1mV / 0.01mA resolution and 50kHz measurement speed, so that your test is fast and accurate.
Maximum power density - 600W single module with ITECH advanced cooling technology, making IT8700 has ultra-high power density, 4U height up to 2400W.
This function can be applied in the automated production test, users can set measurement mode and pull load value of each step for panel or PC software, and the upper and lower limits of test parameters, and display whether the test results have exceeded the set specifications.
PC Communication Interface
IT8700 series of electronic load provide IT9000 PC software, users can easily set and monitor voltage & current waveform of each channel and operation of test, simplify automatic test and battery charge & discharge test. IT8700 has built-in GPIB / Ethernet / USB / RS232 interface, support SCPI communication protocol, provide LabVIEW driver to help customers achieve system structures and remote control.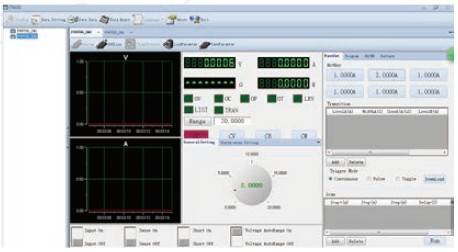 Now, Here's the Technical Bit…Such As Rise Time etc.
Related Technical Articles & Application Notes
You Need to Be a Registered Customer to Download
Installation Guide
Communication Protocol
Programming Guide
Application Driver
Control Software
LabVIEW Driver
LabVIEW Examples
Fuel Cell Simulation Software
Battery Module, Pack Test Software
Battery Simulator Software
Solar Array IV Curve Simulator
Demo Keys
Dedicated Engineer
Helping you select the ideal hardware & software with confidence.
Customized Equipment
Change resistance regulation to 0 ~ 10 Ω before shipping the unit?
Short Lead Time
Even on special orders & custom made power supplies.
Technical Support
Cut off current at a certain voltage with a feedback loop in Matlab?

2-Year Warranty
Buy with confidence.
Fast Delivery
To Mexico and United States in 5-8 days.
ITECH Authorized Distributor
When choosing an industrial equipment, It is essential to work with experts who have had actual experience installing, using, and repairing them. This puts us in the top 2% of the authorized distributors and service providers.
We deliver custom/special order ITECH power supply while maintaining the original warranty.