RIGOL Digital Oscilloscopes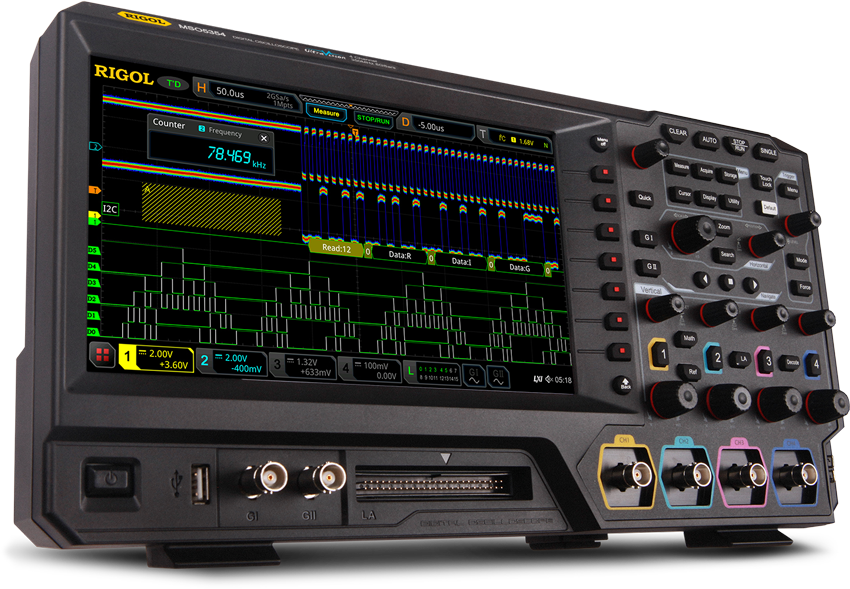 Whether you are a home hobbyist, an educator, an IoT developer, or are debugging an advanced embedded design, RIGOL has an oscilloscope that will delight you with a rich feature set, exceptional performance, and an unpredented price.

Customers will appreciate the power, flexibility, and ease of use of our new UltraVision II Family of Oscilloscopes
Customers who need unprecedented pricing will appreciate the value of our legacy UltraVision Family of Oscilloscopes
The World's Most Affordable Bench Oscilloscopes
Phoenix Chipset
All models are powered by RIGOL's proprietary Phoenix Chipset and performance HW architecture.
High Sample Rate
Category leading sample rates up to 10GSa/sec deliver high resolution capture.

Deep Memory
Record lengths as deep as 500M allow for long uncompromised high resolution captures.

Useful Long Memory
Advanced search and mark, record mode segmented memory, and full record length measurements makes deep memory more useful and powerful.
"7 in 1" instrumentation
Maximize instrument capability with 7 Instrument Functions: Oscilloscope, Spectrum Analyzer, Protocol Analyzer, Waveform Generator, Logic Analyzer, Digitial Voltmeter, Counter/Totalizer

Advanced Analysis
Tools like Zone Trigger, Histogram, Pass/Fail, and Power Analysis speed debug and time to market.
Next Gen UI
With Integrated Touch, Buttons and Knobs or remote web control you can interact with your instruments however you choose. Integrated HDMI out provides complete display flexibility.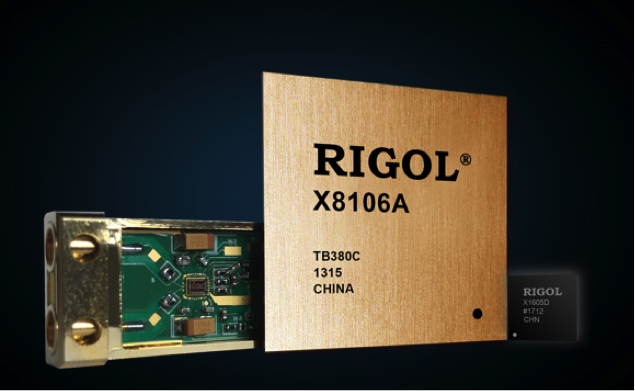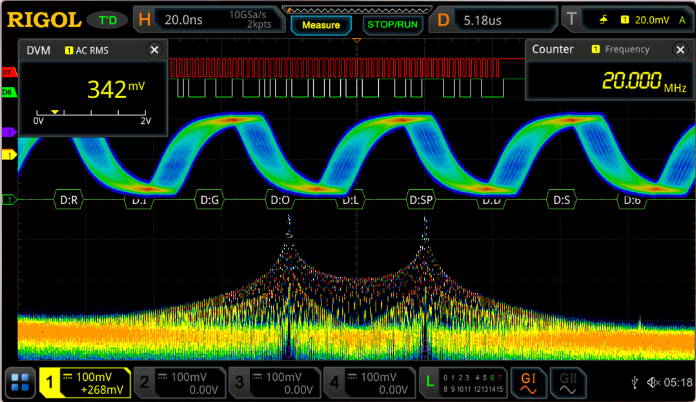 MSO5000 Digital Oscilloscope
70MHz - 350MHz Bandwidth

8 GSa/Sec Max Sample Rate

100M Memory Depth (200M Opt)

9" (1024x600) Touch Display

MSO Options

Starting at $909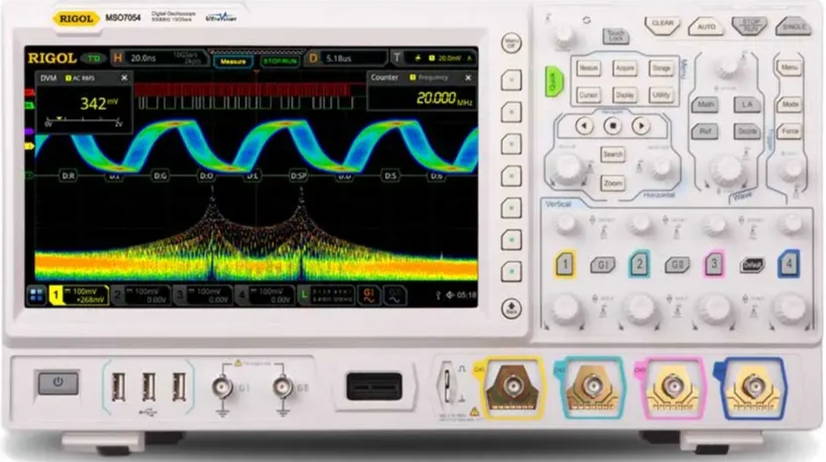 DS7000 Digital Oscilloscope
100MHz to 500MHz Bandwidth

10GSa/Sec Max Sample Rate

100M Memory Depth (500M Opt)

10.1" (1024x600) Touch Display

MSO Options

Starting at $2,699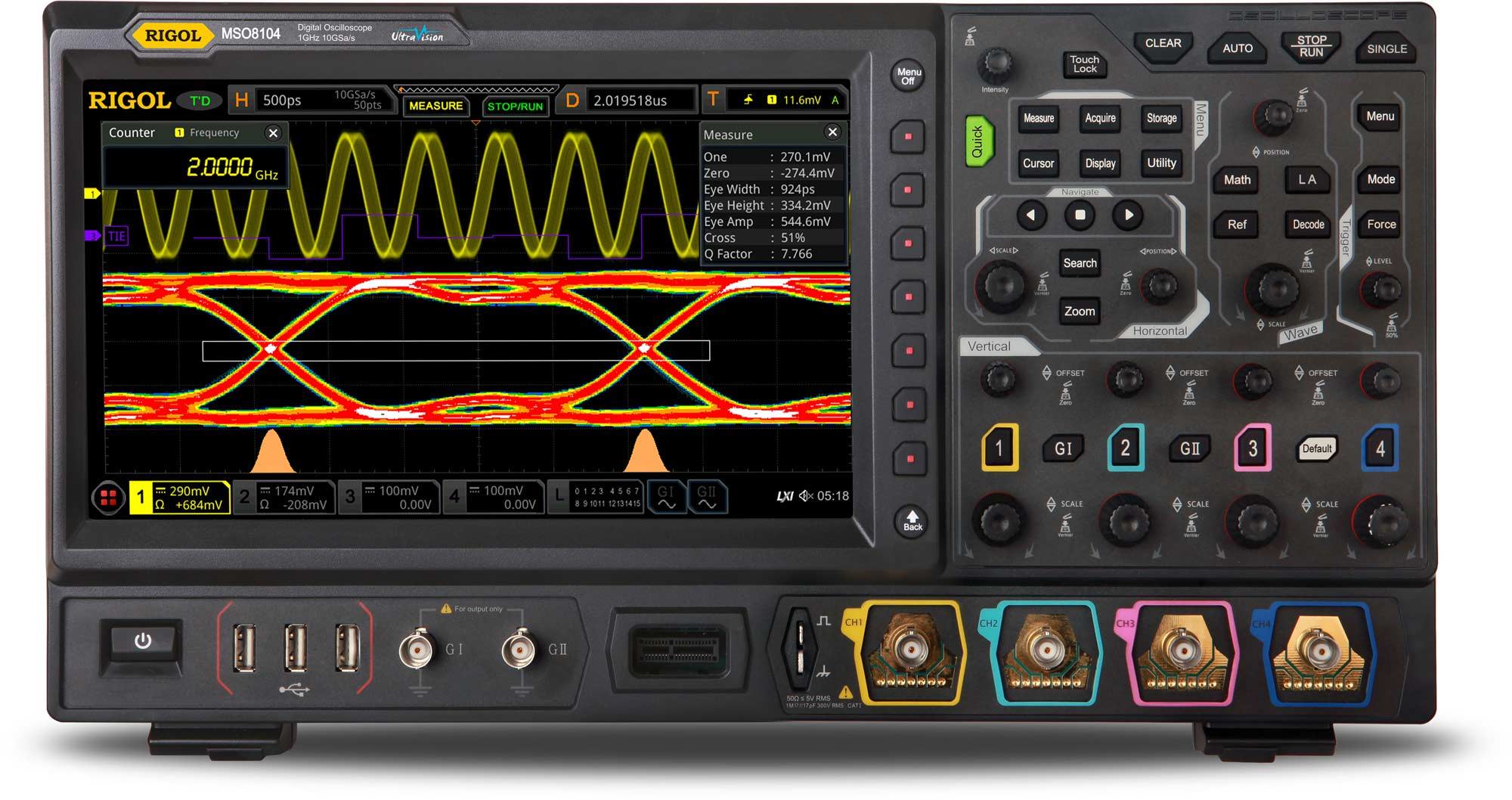 MSO8000 Digital Oscilloscope
600MHz to 2GHz Bandwidth

10GSa/sec Max Sample Rate

500M Memory Depth

10.1" (1024x600) Touch Display

MSO Options

Starting at $7,999
Powerful Visualization and Analysis Tools at an Economical Price Provide Unprecedented Customer Value
Unmatched price performance from 50MHz to 1GHz

Long Record Lengths

High Waveform Capture Rates

Intensity Graded Color Displays

Advanced Analysis Capabilities

Serial Decode

Advanced Triggering

Record Mode

Logic Analysis

Integrated Function Generators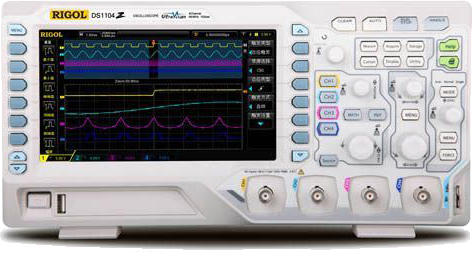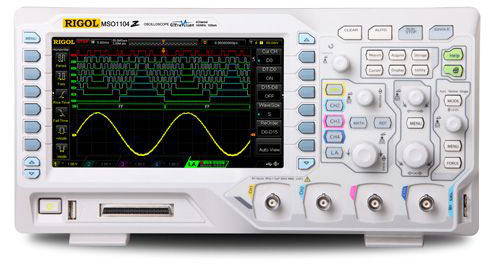 DS1000Z Digital Oscilloscope
50MHz - 200MHz Bandwidth

1 GSa/Sec Max Sample Rate

24M Memory Depth

7" (800x480) Display

MSO Upgradable 'Plus' Models

Integrated Generator Options

Starting at $279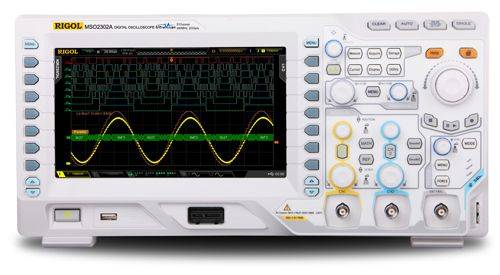 DS2000A Digital Oscilloscope
100MHz to 300MHz Bandwidth

2GSa/Sec Max Sample Rate

56M Memory Depth

8" (800x480) Display

MSO Options

Integrated Generator Options

Starting at $529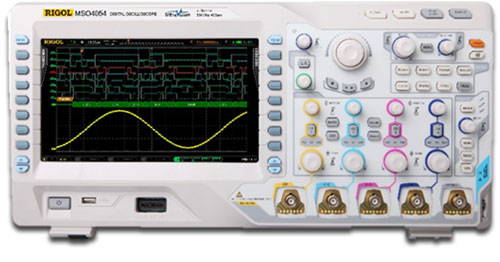 DS4000 Digital Oscilloscope
100MHz to 500MHz Bandwidth

4GSa/sec Max Sample Rate

140M Memory Depth

9" (800x480) Display

MSO Options

Starting at $1,899
RIGOL Oscilloscope Portfolio
Choose the Scope that's right for you